The information, dispatching, communication and managing systems for municipal public transportation and scheduled public transportation are used in the following fields:
the field of dispatching and other departments - managing and supervising transportation on the basis of evaluating positions of the vehicles in relation to the schedule; vehicle maintenance, dispatch office and other managing and control departments - all this with the help of one control SW - SPRINTER 2013 with a possibility of adding a HW solution of a radio network of transportation companies (radio communication data and voice switchboards) or radio networks of mobile operators
the field of "intelligent vehicles" - components of on-board systems - on-board computers EPIS 4.0, dispatching computers EPIS 5 FCC, inner and outer vehicle LED panels, passenger LCD terminals, throwing switches (automatic), command receivers for people with impaired vision, vehicle camera systems, etc ….).
the field of depots, vehicle data actualization and vehicle data collection - reading data from on-board computers and checking systems, obtaining operation logs, reading data from weightings and tachographs, etc.
the field of intelligent stops and stationary panels (LED or LCD) - including communication with the dispatching, vehicles, vision impaired citizens, passenger warning systems, cameras, etc.
the field of transportation routes and their administration – automatic throwing of switches, preference at crossroads, initializing "actions" at important points, etc.
Regarding these fields we offer system supplier services including system integrations of already existing components.
Company history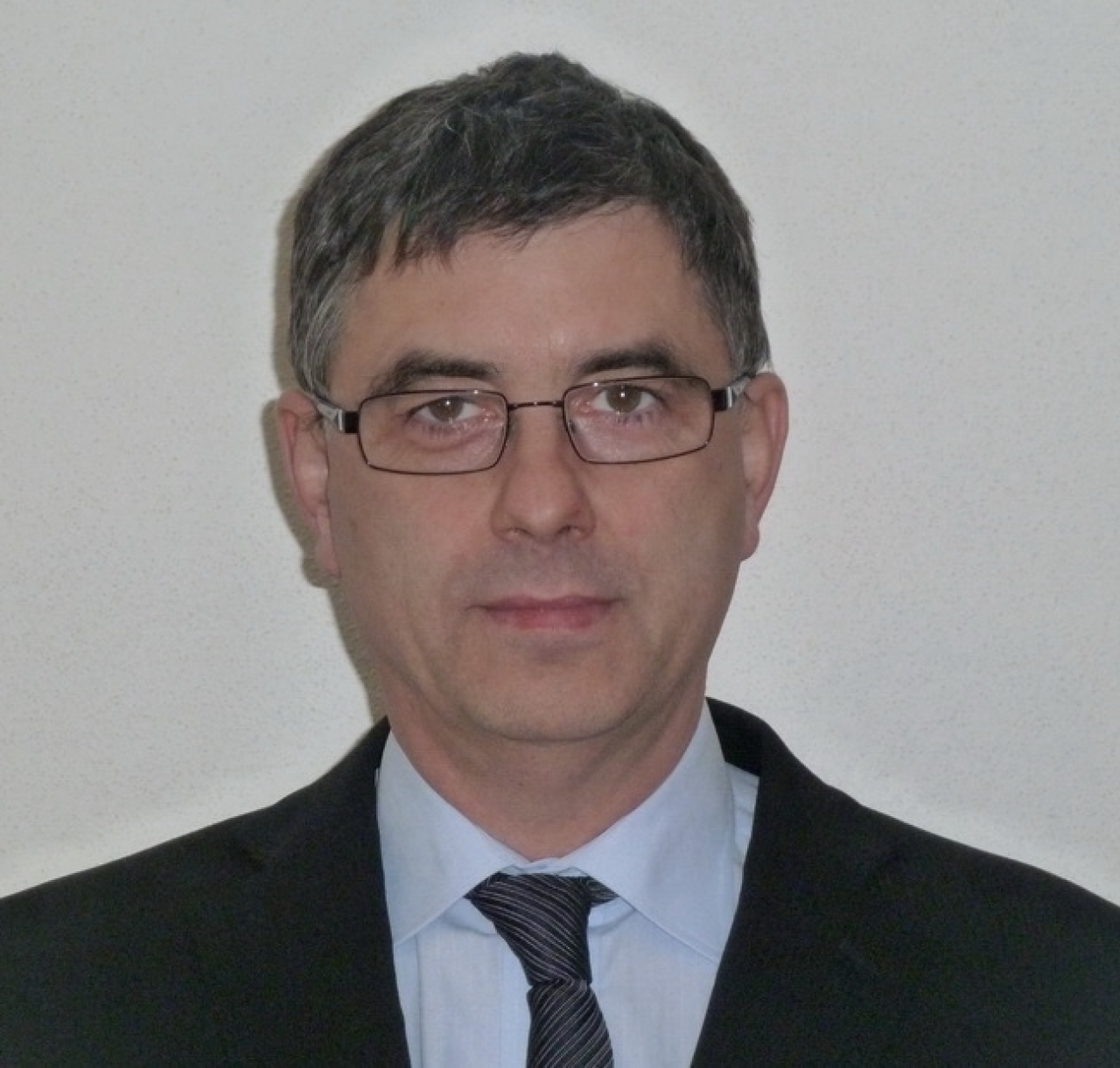 Ing. Ivo Herman, CSc.[/caption] The Ing. Ivo Herman, CSc. company was founded on 1.5.1990 for the purposes of producing and developing specialized electronic products with links to previously realized significant projects. The central program of the company consists of proposing and realizing electronic products from the fields of processing acoustic signals, high-frequency technology, database information and control systems, telecommunication systems; and trading activities. Regarding the above mentioned fields the company offers its customers a complex approach to the problems they want to have solved.
The composition of the company ensures short innovation cycles and state of the art technical solutions. Many development assignments are now solved by 10 development operatives which guarantees short innovation cycles and fast development of applications. The work is executed in accordance with the wishes and requests from our customers the results of which are "fitted" solutions. One of the biggest advantages of the company is its close connection to scientific circles and specialized technical equipment of The faculty of Electrical Engineering and Communication of the Brno University of Technology.
In 2006 we acquired new production spaces at Brněnská 993 in Modřice which ensure sufficient space for further development. In 2007 we launched our own printing system SMT for printed circuits and thus became technologically independent. In 2008 we received the ISO 9001:2000 quality management system certificate. And in 2009 one of the most innovative public transportation information systems (not only in the Czech Republic) was born (the EPIS 4.0 and SPRINTER 2010 on-board computer).
Due to our hard work and ceaseless innovations we have become a system integrator in the field of information systems in a number of public transportation companies in the Czech Republic and now we are preparing a solution for the dispatching of IDS. Regarding the field of vehicle information systems we are capable of supplying complex solutions (we have completed the development of vehicle LED and LCD panels this year). In 2011 the development was initiated of a new type of on-board computer joined with a checking system for scheduled public transport including SW "backoffice", whose development is finishing.
To supply You with a complete overview of the specialized capabilities of our company we would like to present You with a list of contracts successfully completed by the Ing. Ivo Herman, CSc. company.
| | | |
| --- | --- | --- |
| A system of direct communication between a vehicle and an intelligent stop | EPIS 4.0 and ELP | 2012 |
| Introducing public internet at intelligent stops | ELP | 2012 |
| An on-board computer with a separate LCD display for the driver | EPIS 4.0 | 2009 |
| A two-way communication system of voice information for people with impaired vision OAS | OAS | 2007 |
| Remote surveillance of the numbers of passengers at stops | ELP | 2007 |
| Induction throwing of tram switches including vehicle identification | system BSV | 2007 |
| Light point monitoring up to the distance of 600m | system MSB | 2005 |
| Combined fonic and data network with position surveillance | system SPRINTER | 2003 |
| Remote door opening of public transportation vehicles including sound signalization for people with impaired vision | EPNEV | 2001 |
| Induction throwing of trolleybus switches including vehicle identification | system BSV | 2000 |
| Control of the vehicle power feed with an added RDST changer | unit IJN | 2000 |
| Triple digital annunciator units with independent outputs | unit EPIS | 1995 |
Activities of the company in the individual fields
The field of public transportation
The field of high frequency technology
receivers of signalization from people with impaired vision EPNEV - for municipal and scheduled public transportation, trains, station and home implementation for organizations and also a compact communication system with a voice player and wireless signalization for teller window employees ( the OAS system – orientation acoustic system for people with impaired vision and the sand-blind).
receivers for city and village radios and security systems - receivers of the BIS series (wireless information system). They are developed both for analog signal processing and for digital data processing - a versatile data platform based on a high efficiency signal processor and digital signal processing (the PKZ series).
GSM / GPRS communication systems for voice and data communication with technological vehicles (a cell phone substitute which is firmly connected to a vehicle or a train). The units also allow sending coded messages to vehicles or monitoring their positions.
RFID systems – meant primarily for long-term temperature measurements and wireless reading of memory content.
short distance data transfer systems using 2,4 GHz band for depots and track technologies (communication with the surroundings, night data transfer and contactless scanning of the states of vehicles)
radio and data modems.
The field of managing systems, acoustic systems and converters:
managing of switching on and monitoring of the state of street lighting via power lines up to the distance of 800 m-monitoring of light points – MSB.
long-distance data collection systems (up to 3 km) – COLL system.
MP3 players for built-in and independent applications including remote control.
signal systems composed of LED diodes (e.g. for depots, switch state signalization, etc.).
communication units connectable to the internet.
data transfer convertors (RS 232/LPT, isolated RS 232 / RS 485 or RS 232 / RS 422, RS 232 / IBIS).
other electronic devices.
List of important contracts of the company
December 2012 - supplying 51 electronic intelligent panels for big loops and reconstructing another 80 panels.
December 2012 - realization of a complex information system in Svinovské mosty, Ostrava.
December 2012 - supplying 92 on-board computers EPIS 4.0A, a new radio network management system EPIS FD-NET, dispatching SW SPRINTER 2013, automatic public transportation vehicle recording for DSZO ltd. and 42 crossroads preference managing units in the city of Zlín.
November 2012 - realization of an information system at the public transportation terminal in Cheb.
July 2012 - supplying 12 intelligent stops including vehicle - station panel communication using a private radio network. The dispatching system SPRINTER was equipped with LED panel control at intelligent stops.
September 2011 - realization of a station information terminal in Brno at the Česká stop.
September 2011 - designing an information system for automatic throwing of switches for EPIS 4.0 on-board computers.
June 2010 - a system for managing crossroads preferences using the TAIT radio network in the city of Plzeň (more than 25 crossroads) including a graphic crossroads editor and its connection to the EPIS 4.0x on-board computer.
June 2010 - solution of large-scale information panels based on plasma or LED displays for displaying the situation at transportation loops with the ability of collecting data from intelligent signs in the surroundings.
June 2010 - a large station 8 line double-faced sign managed via GPRS or the internet (low-energy) containing 27 thousand light points.
May 2010 - a new version of the SPRINTER 2010 dispatching information system containing map data and many other new features.
May 2010 - a system of radio collection of positions of company vehicles and administering travel logs.
April 2010 - small stop signs with an energy saving solution managed via GPRS and containing also a citizen warning system and a command receiver for people with impaired vision - produced for the České Budějovice public transportation company in cooperation with the Colsys ltd., TSE ltd. and IPM (Italy) companies.
March 2010 - automatic announcing of stops in public transportation vehicles according to their GPS positions.
March 2010 - an automatic system of routes management for trolleybus depots.
March 2010 - a voice radio switchboard managing 32 voice channels and 3 base radio stations with 8 radio channels.
November 2009 - a vehicle data recording 5,8 GHz system with high data throughput - 1 Mbyte/ 1s (actual transfer speed).
October 2009 - a universal communication Ethernet unit ensuring WiFi antennas power supply and communication at the frequency of 866 MHz with remote monitoring.
September 2008 - together with the GES company winning the "Dynamic dispatching" selection procedure of the PMDP plc. company.
2006 - realization of central dispatching of the region of South Moravia as a part of the consortium of the GITY plc. and T-mapy ltd. companies and starting the production of MSP 1.1 units.
2005 - development of light point monitoring via power lines in cooperation with the DAT-MO-LUX ltd. company
2005 - development of a transported goods temperature measurement unit - the ECOFRIDGE project.
2004 - still lasting - a new BSV system with the FSK modulation and transfer speed of 4 800 Kbit/s.
2002 - 2010 - supplying complete EPIS 2.45 UIR information systems for DP Ostrava plc. including radio communication channels using 2.45 GHz frequency for recording vehicles.
2002 - still lasting - realization of a number of contracts for dispatching management of a radio network based on EPIS units allowing data transfer and position locating from more base radio stations for DP Ostrava, plc. .
2001 - 2005 - a member of the winning consortium securing a contract for supplying "a managing and information system" for DPMB plc. (approximately 385 EPIS 2.45 annunciator units, 550 pieces of IJN 10, 300 pieces of BSV systems, etc.).
2001 - supplying more than 350 pieces of EPNEV 3.03TD receivers for people with impaired vision for tram and trolleybus traffic with automatic door opening and door identification beep for the DPO plc. company.
2001 - 2006 - a PKY receiver unit for local wireless radios. In 2005 - 2006 developing and producing an innovated unit for the VEGACOM plc. company.
2000 - still lasting - commencing the production of IJN 01 integrated power supply units. Today IJN 10N, IJN 12, NRJ 02 and others are in production.
2000 - still lasting - production of managing boxes of trolleybus switches BSV-S 01, BSV-S 02 and BSV-S 03 for DPMB plc. (magnetic and motor trolleybus switches).
2000 - still lasting - commencing the production of components of contactless throwing of switches BSV (via inductive loops).
1999 - production of EPNEV 6-channel signalization receiver units for people with impaired vision including the ability to generate beeps for acoustic outputs, produced in a number of versions.
1998 - 1999 - exporting EPIS 2.36 digital annunciator units to surrounding countries (Poland, Bulgaria, Lithuania, Slovakia, Latvia, ...).
1998 - 2002 - Introducing the universal EPIS annunciator unit version 2.36 NMR on the market (unlike the previous version, this one can contain a fast busbar, a signalization receiver for people with impaired vision and a short distance radio beacon 64kbit/s - KORIS (produced more than 350 pieces).
1998 - commencing the production of vehicle radio station 13,8V/4A sources with adjustable output voltage
1998 - in cooperation with the BUSE company commencing the production of integrated BSH boxes for KAROSA plc., Škoda Ostrov, ltd. and ČKD Dopravní systémy. Ensuring the possibility of ordering digital annunciator units directly from the supplier of buses, trolleybuses and trams.
1997 - 1999 - Development of adapters for the EPIS unit used in bidirectionally controlled trams of the KT-8 type. At the present time a new versatile version of adapters with bidirectional communication is produced. This version is fully program managed and allows transferring the signal through the whole tram.
1997 - 1998 - Introducing a new generation of EPIS 2.36 annunciator units onto the market (produced more than 210 pieces of digital annunciator units).
1996 - 1998 - program realization of an algorithm of the FFSK 1200 bit/s modem on a signal processor that is used in EPIS digital annunciator units for the purposes of communicating with a dispatching post.
1996 - winning the selection procedure held by the Dopravní podnik Ostrava, plc. company for an electro-acoustic EPIS 2.35 unit supporting radio communication of the vehicles.
1995 - 1996 - Modifying a high quality method of MPEG coding for the purposes of transportation companies. So far a data stream of < 40kbit/s for the annunciator unit frequency band of 10 kHz has been reached. The capacity of the annunciator unit was doubled simply by replacing the database and the program.
1995 - 1996 - proposal, development and production of an EPIS digital annunciator unit (version 2) improved by a possibility of radio communication of the vehicle and its verification in commission (production of a 12-piece prototype series).
1995 - Realization and production of 1200 bit/s modems for slow data collection via radio stations through the RS 232 interface. The modems were also used for data gathering from television cabling.
1994 - 1995 - Development and realization of a functional sample of an EPIS digital annunciator unit version 1.00 exhibited in a reconstructed T3R tram as a part of ČKD Tatra, plc. exposition at the 37. International Engineering Fair in Brno in Fall 1995.